Karen Zapp, PE
Expertise: Construction, Energy/Oil & Gas, Environmental, Aviation
Since the turn of the century I've been exclusively involved in sales, marketing, and direct response copywriting. Yup; I'm a hard-hat-wearin' licensed professional engineer (PE) who loves marketing.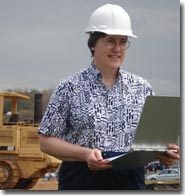 How can I help your business be even more successful? What do I bring to the table?
I'm a problem solver.
I have experience as a B2B buyer and in direct sales.
I have extensive marketing experience and I thrive on learning all I can about marketing (online and
offline).
I continue to study and hone my craft. I don't stop learning.
I'm a business owner.
I have a knack for simplifying the complex . . . for explaining the very technical in ways that prospects and customers can easily understand, and more importantly, respond to.
I'm comfortable talking with engineers (I'm one myself). I can talk "features" and turn these into the benefits your prospects are looking for.
I have decades of leadership and managerial experience.
I believe in "old fashioned" courtesy. I value clients like precious metal (and I'm a former geological engineer, so I know what I'm talking about!).
For the curious, right after college I began as an engineer with a natural gas public utility. After a few years they transferred me to a subsidiary within the corporation which was an independent oil and gas exploration company. To this day I remain fascinated by the energy industry.
I'm also very patriotic so in my late 20's I launched a career as a Navy Civil Engineer Corps officer. Here my work experience involved the design and management of large construction projects – anything from schools to power plants – and facilities maintenance. Even though all my formal education and experience was in the engineering world, it was after my Navy career that I discovered I also have a tremendous passion – and a knack – for marketing and copywriting.
I've found that all this adds up to a greater ability to relate to diverse businesses. And this translates into stronger copy.
I can supercharge your marketing promotions with copy formulated to tap into core reader emotions; formulated to reach readers at a more penetrating level than ever before. You'll get more mileage out of the same marketing budget.
Here are my credentials:
Recipient of the Clayton Makepeace & The Total Package "2006 Copywriter's Challenge" Award (3rd place category)
Member:

Business Marketing Association (BMA)
American Society of Association Executives
(ASAE)
Aircraft Owners and Pilots Association (AOPA)
Association of Fundraising Professionals (AFP)

Courses I've studied published by American Writers & Artists Inc. (AWAI)

Secrets of Writing High Performance Business-to-Business Copy
The Masters Program for Six-Figure Copywriting
Accelerated Program for Six-Figure Copywriting
Secrets of Writing for the Fundraising Market
Secrets of Writing for the Self-Help Market

Additional courses I've studied plus on-going education

Program by Clayton Makepeace, the "Ultimate Desktop Copy Coach" which was augmented by coaching
Program by John Carlton, "Copywriting Secrets of a Marketing Rebel" augmented by critiques
Plus I read B2B and other marketing and copywriting newsletters (online and print), blogs, books written by the classic copywriters and marketers of the 20th century, books just published; and I attend workshops and conferences all with the goal to keep me on the leading edge of marketing know-how . . . both online and print . . . and to keep honing my craft.

Licensed Professional Engineer
Colorado, Civil Engineering
MSE – field of Environmental
Engineering
Purdue University
BS – Geological Engineering
South Dakota School of Mines & Technology
Hobbies & Interests: hiking; nature and the environment; private pilot; piano; classical music; photography; solving mysteries; travel; energy conservation; home improvement projects ("Karen The Handyman"); and discovering how things are made (e.g., just about any type of construction falls here); I lived in the Philippines for two years; I have traveled to 22 countries; and I've lived in 9 states and traveled to all but Alaska. I love variety!