John "Wiz" Withers
Expertise: Aviation, Aerospace, Audio/Video, Music, Software
Since 1993 I have been a "writer for hire" for organizations ranging from the US federal government to a local public broadcasting station.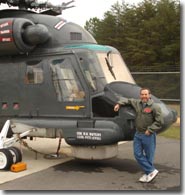 In my first career I was a US Navy helicopter pilot and instructor, traveling and flying missions all over the world. Early in my career I specialized in anti-submarine warfare, becoming intimately familiar with acoustics and sound
propagation. When combined with my love of music, this ultimately led to a life-long fascination with sound and video.
Later, as a senior officer I twice commanded helicopter detachments in the Persian Gulf, including missions during OPERATION DESERT STORM.
I was also a helicopter flight instructor. During that time I discovered one of my strengths is taking a complex, technical subject (like helicopter flying or aerodynamics) and explaining it to a non-technical audience.
This skill later transferred to technical writing when I joined the team conducting initial operational and engineering development tests on the US Marine Corps' then-experimental V-22 Osprey tiltrotor aircraft. There I co-authored, edited, and evaluated many of the procedures used in maintaining and preparing the aircraft for flight testing.
After the Navy, I worked in the defense industry as a project team leader and branch head for several years, writing numerous flight test reports and other technical documents. I co-authored and edited the US Navy's first comprehensive manual for operating US Army and US Air Force helicopters aboard ships – which is still in use today.
Additionally, for 10 years I've been a monthly columnist for SHIPMATE, the magazine of the US Naval Academy Alumni Association. I also blog and speak publicly on the topic of leadership.
Like Karen, I've found my diverse experiences, technical background and logical approach add up to a greater ability to relate to diverse businesses and their audiences. And this translates into stronger copy.
More stuff my mother would tell you about me:
Education:
BS (Physics), United States Naval Academy
MA, United States Naval War College
MA, Salve Regina University

Licensed Aircraft Pilot (over 4,500 hours) with the following ratings:
Commercial Pilot:

Airplane, single-engine, land
Airplane, multi-engine, land
Helicopter
Glider


Instrument Rating:
Member:
– National Business Aviation Association (NBAA)
– Helicopter Association International (HAI)
– Aircraft Owners and Pilots Association (AOPA)
– US Naval Institute (USNI)
– Military Officers Association of America (MOAA)
Ongoing education includes reading and studying dozens of blogs, newsletters, and special reports on the B2B marketplace and direct response copywriting. I also attend conferences, webinars and workshops throughout the year and I've studied the program, "Secrets of Writing High Performance Business-to-Business Copy" published by AWAI.
Retired Naval Officer (sixth-generation military veteran)
My mother would also tell you that I enjoy hiking, singing, playing guitar, building websites, producing web video, model railroading, and, of course – flying. Then she would pull out the baby pictures . . .