Meet the B2B Scribe Team

Karen Zapp, PE
Since the turn of the century I've been exclusively involved in sales, marketing, and direct response copywriting. Yup; I'm a hard-hat-wearin' licensed professional engineer (PE) who loves marketing.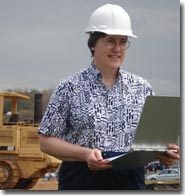 How can I help your business be even more successful? What do I bring to the table?
I'm a problem solver.
I have experience as a B2B buyer and in direct sales.
I have extensive marketing experience and I thrive on learning all I can about marketing (online and
offline).
I continue to study and hone my craft. I don't stop learning.
I'm a business owner.
I have a knack for simplifying the complex . . . for explaining the very technical in ways that prospects and customers can easily understand, and more importantly, respond to.
I'm comfortable talking with engineers (I'm one myself). I can talk "features" and turn these into the benefits your prospects are looking for.
I have decades of leadership and managerial experience.
I believe in "old fashioned" courtesy. I value clients like precious metal (and I'm a former geological engineer, so I know what I'm talking about!).
For the curious, right after college I began as an engineer with a natural gas public utility. After a few years they transferred me to a subsidiary within the corporation which was an independent oil and gas exploration company. To this day I remain fascinated by the energy industry.
I'm also very patriotic so in my late 20's I launched a career as a Navy Civil Engineer Corps officer. Here my work experience involved the design and management of large construction projects – anything from schools to power plants – and facilities maintenance. Even though all my formal education and experience was in the engineering world, it was after my Navy career that I discovered I also have a tremendous passion – and a knack – for marketing and copywriting.
I've found that all this adds up to a greater ability to relate to diverse businesses. And this translates into stronger copy.
I can supercharge your marketing promotions with copy formulated to tap into core reader emotions; formulated to reach readers at a more penetrating level than ever before. You'll get more mileage out of the same marketing budget.
A few of my credentials (just in case you doubt the engineer part):
Licensed Professional Engineer
Colorado, Civil Engineering
MSE – field of Environmental
Engineering
Purdue University
BS – Geological Engineering
South Dakota School of Mines & Technology
Hobbies & Interests: hiking; nature and the environment; private pilot; piano; classical music; photography; solving mysteries; travel; energy conservation; home improvement projects ("Karen The Handyman"); and discovering how things are made (e.g., just about any type of construction falls here); I lived in the Philippines for two years; I have traveled to 22 countries; and I've lived in 9 states and traveled to all but Alaska. I love variety!

John Withers
Since 1993 I have been a "writer for hire" for organizations ranging from the US federal government to a local public broadcasting station.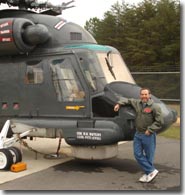 In my first career I was a US Navy helicopter pilot and instructor, traveling and flying missions all over the world. Early in my career I specialized in anti-submarine warfare, becoming intimately familiar with acoustics and sound
propagation. When combined with my love of music, this ultimately led to a life-long fascination with sound and video.
Later, as a senior officer I twice commanded helicopter detachments in the Persian Gulf, including missions during OPERATION DESERT STORM.
I was also a helicopter flight instructor. During that time I discovered one of my strengths is taking a complex, technical subject (like helicopter flying or aerodynamics) and explaining it to a non-technical audience.
This skill later transferred to technical writing when I joined the team conducting initial operational and engineering development tests on the US Marine Corps' then-experimental V-22 Osprey tiltrotor aircraft. There I co-authored, edited, and evaluated many of the procedures used in maintaining and preparing the aircraft for flight testing.
After the Navy, I worked in the defense industry as a project team leader and branch head for several years, writing numerous flight test reports and other technical documents. I co-authored and edited the US Navy's first comprehensive manual for operating US Army and US Air Force helicopters aboard ships – which is still in use today.
Additionally, for 10 years I've been a monthly columnist for SHIPMATE, the magazine of the US Naval Academy Alumni Association. I also blog and speak publicly on the topic of leadership.
Like Karen, I've found my diverse experiences, technical background and logical approach add up to a greater ability to relate to diverse businesses and their audiences. And this translates into stronger copy.
More stuff my mother would tell you about me:
BS, Physics
United States Naval Academy
MA, National Security and Strategic
Studies
United States Naval War College
MA, International Relations
Salve Regina University
Licensed Aircraft Pilot (over 4,500 hours) with the following ratings:
Commercial Pilot:

Airplane, single-engine, land
Airplane, multi-engine, land
Helicopter
Glider


Instrument Rating:
Member:
– National Business Aviation Association (NBAA)
– Helicopter Association International (HAI)
– Aircraft Owners and Pilots Association (AOPA)
– US Naval Institute (USNI)
– Military Officers Association of America (MOAA)
Ongoing education includes reading and studying dozens of blogs, newsletters, and special reports on the B2B marketplace and direct response copywriting. I also attend conferences, webinars and workshops throughout the year and I've studied the program, "Secrets of Writing High Performance Business-to-Business Copy" published by AWAI.
Retired Naval Officer (sixth-generation
military veteran)
My mother would also tell you that I enjoy hiking, singing, playing guitar, building websites, producing web video, model railroading, and, of course – flying. Then she would pull out the baby pictures . . .